How to create a device ledger CSV for import
How to create a device ledger CSV for import
Updated by shibue
How to import a device ledger in CSV format
You can import your device ledger into MoneyForward Admina.
(1) Go to "Devices" > "Import" and download the template.
(2) Mold the managed items according to the template.
(3)Import the template and you are done.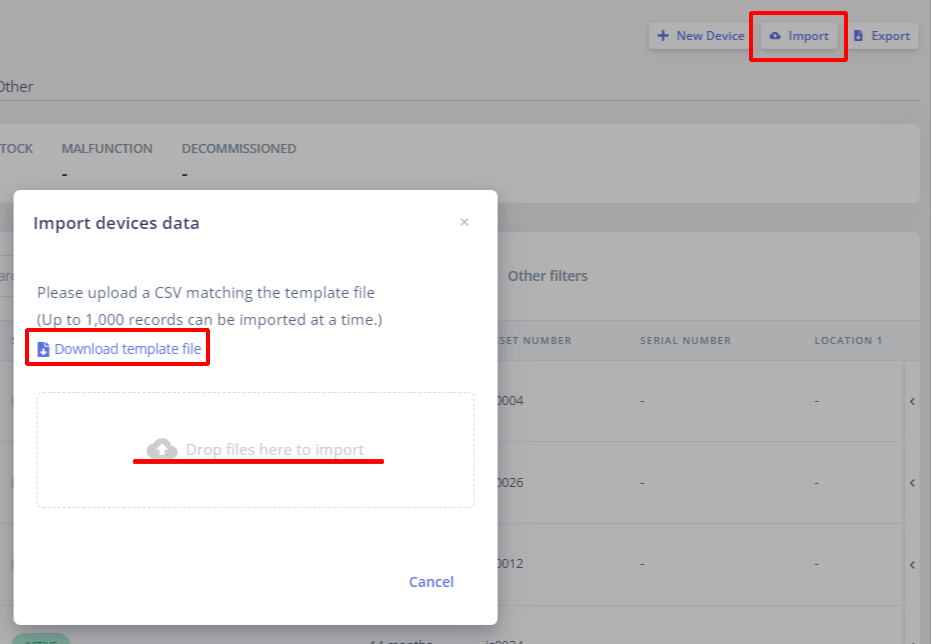 Registration Template
Below are the items and specifications that can be registered using the template.
Item name

Required or not

Input Example

Input specification

Asset No.

Required

keyboard0001

・Free input (max. 100 characters)

・Please register it as a unique (only one) IT asset.

・If you do not have an asset number, please register it as a device name + serial number, etc.

Model name

Required

MacBook Air,Early2014

Free input (max. 100 characters)

Serial number (IMEI)

CN1230123101

Free input (max. 100 characters)

Email

****@moneyfoward.com

・Please specify your email address.

If you specify an e-mail address that does not exist in Admina, the registration of the e-mail address will be skipped.

Type

Required

Tablet PC

Please select one of the following.

esktop PC, Laptop PC, Tablet PC, Phone, Monitor, Server, Peripherals, Other

Status

Required

Disposal/Cancellation

・Please select from the following

Used, In stock, Broken, Discarded/Canceled, Unknown

Allocation Date

2023-12-21

YYYYY-MM-DD or YYYY/MM/DD

Allocation End Date

2023-12-22

YYYYY-MM-DD or YYYY/MM/DD

Phone number

08012345678

Free input (max. 100 characters)

Location 1

Shared by Tohoku Branch

Free input (max. 100 characters)

Location 2

21F Conference Room

Free input (max. 100 characters)

Date of purchase

2023-12-22

YYYYY-MM-DD or YYYYY/MM/DD

memo

Memorandum Check if Mr. Kimura was lent a security card at the time of his retirement.

Free input (500 characters max.)

Manufacturer

Apple

Free input (max. 100 characters)

Model No.

FMVA77DL

Free input (max. 100 characters)

CPU

Core i9 13900KS

Free input (max. 100 characters)

Memory

64GB memory (DDR4, 32GB x 2)

Free input (max. 100 characters)

HDD/SSD

HDD(1TB)

Free input (max. 100 characters)

OS

Windows 11 Pro for Workstations

Free input (max. 100 characters)

Version

1.2.5

Free input (max. 100 characters)

Size

13 inches

Free input (max. 100 characters)

Keyboard layout

JIS

・Please select from the following

US, JIS, UK, Other

Host name

cf-1561-mm02

Free input (max. 100 characters)

SIM number

NN1234567898765

Free input (max. 100 characters)

Cellular Phone Plan

Unlimited MAX 5G

Free input (max. 100 characters)

Procurement Method

Buy

・Please select from the following

Buy, Lease, Rental, Other

Purchased from

Money Forward, Inc.

Free input (max. 100 characters)

Purchase Cost

120000

Numerical value

Fixed Assets

Subject

・Please select from the following

Subject, Not Subject

Guarantee period

18 months

Free input (max. 100 characters)

Start date of use

2021-12-03

YYYYY-MM-DD or YYYY/MM/DD

End date of use

2021-12-03

YYYYY-MM-DD or YYYY/MM/DD

Expected return date

2021-12-03

YYYYY-MM-DD or YYYY/MM/DD

Disposal/Cancellation Date

2021-12-03

YYYYY-MM-DD or YYYY/MM/DD